Grey County
| Location | History | Townships | Towns, Villages, etc. | Maps | Winfield Publications |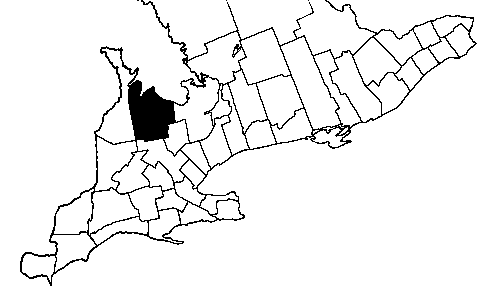 Location of Grey County
Location:

  Grey County's boundaries are:
    north: Georgian Bay
    east:  Simcoe County
    south: Dufferin & Wellington Counties
    west:  Bruce County

  Counties of Ontario Index

  Districts were the primary divisions of local government in early Ontario.
  They were abolished in 1849, with counties replacing them in importance.
  Grey County was created in 1851.
  Its townships were settled between 18__ and 18__.
  Prior to 1851, they had been part of Simcoe and Wellington Districts.
  Townships which were part of Simcoe District were:
    Artemesia, Collingwood, Euphrasia, Osprey, and St. Vincent.
  Townships which were part of Wellington District were:
    Bentinck, Derby, Egremont, Glenelg, Holland, 
    Melancthon, Normanby, Proton, Sullivan, and Sydenham.
  Townships which were added to Grey in the late 1850's were:
    Keppel and Sarawak.
  Melancthon Township became part of Dufferin County in 1879.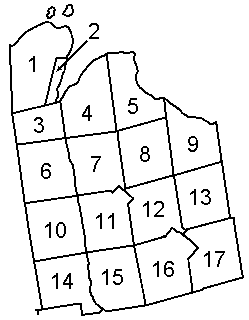 Townships of Grey County
Townships (post-1851):

  Numbers refer to the Townships of Grey 
  County map (to the right)
  
  Artemesia     12       Melancthon**  17
  Bentinck      10       Normanby      14
  Collingwood    9       Osprey        13
  Derby          3       Proton        16
  Egremont      15       Sarawak*       2
  Euphrasia      8       St. Vincent    5
  Glenelg       11       Sullivan       6
  Holland        7       Sydenham       4
  Keppel*        1
  
   *Keppel and Sarawak were Indian territory
    until the late 1850's.  Sarawak was part
    of Keppel until 1868.
  **Melancthon became part of Dufferin County
    in 1879.
   
  Townships of Ontario Index

  Numbers refer to the Townships of Grey 
  County map (to the right)

  Aberdeen      10       Cedarville     16
  Allan Park    10       Durham         10,11
  Alsfeldt      14       Holstein       15
  Alvanley       3       Mount Forest*  14,15
  Annan          4       Owen Sound      3,4
  Arnott         7       Thornbury       9
  Ayton         14       Wiarton**       1
  
   *Mount Forest became part of Wellington County
    in 1865.
  **Wiarton became part of Bruce County in 1880.
   
  Places of Ontario Index

  Grey County Map (circa 1871)

Home | Books | Projects | What's New | Ontario | Who We Are | Site Map




7 Crewe Avenue, Toronto, Ontario, Canada M4C 2H9
t 416-423-2910 . . . info@winfieldpublishing.com
Setting Standards in Genealogy Publishing


© 2000-2023 Winfield Publishing . . . All Rights Reserved